Over the past five years, the sales of pet snack foods have surpassed the sale of pet food – a whopping 29% since 2012. According to Mintel, a leader in market research, pet snack sales reached an all-time high of $4.39 billion in spending this year. Forty-seven percent of owners give their cats and dogs "snacks" every day.
The whole Treat Yo Self mentality is starting to rub off on our pets, too!
So what does this increase in pet snack food sales actually mean for our pets? Unfortunately, it means an increase in health risks for our furry companions.
More than half of cats (58.9%) were classified as clinically overweight or obese by their vets last year according to the Association for Pet Obesity Prevention. That's 50.5 million fat cats. Obesity can lead to long-term health consequences for cats: lethargy, diabetes, kidney dysfunction, osteoarthritis, skin issues, and even difficulty breathing.
Three-quarters of pet parents told Mintel that giving their cats treats is a way they show their pets love, especially after leaving them at home alone all day."Giving a food reward is one way to mitigate that guilt because it's an instant payoff: The dog scarfs down the treat, you feel better – and you give him another one," says Dr. Ernie Ward, a veterinarian and founder of the Association for Pet Obesity and Prevention.
And while giving your cat a treat or two every now and then isn't what's making them fat, it is theorized that genetics behavior and lifestyle all play a role in weight gain. In general, cats that have their food delivered to them in a bowl, with treats on top of that, and expend fewer calories each day than they eat. Just like humans who lead a sedentary lifestyle and don't exercise, this can lead to an overweight cat.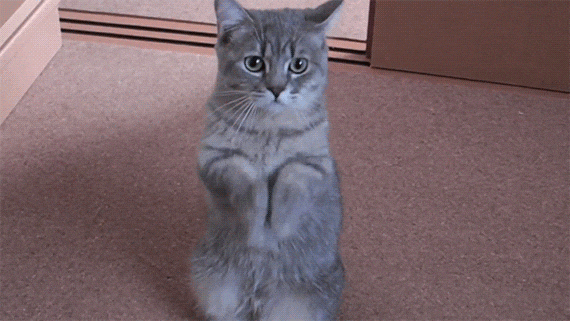 "As the humanization of our pets progresses, we want to involve them as much as possible in our daily habits, and so treats are an extension of that," writes Dr. Ward. "So just like we reward ourselves with a bag of chips or a chocolate bar, now we feel compelled to share the experience with our pets by giving them a treat, too."
"If you're going to give your pets treats, make them count," suggests Dr. Ward. Select treats that are beneficial to your cat's health, such as hairball control or chewable treats that help with plaque and tartar buildup. Not only will it help save on vet bills for Mr. Mitten's teeth cleanings, but you still get the satisfaction of hearing his purr every time he chows down.
When you go shopping for your food, do you read the nutrition and ingredient labels? You should do the same for your cat's snacks. Avoid any sugary treats loaded with "-oses" like glucose, sucrose, maltose or dextrose. Your cat isn't likely to want a snack with sugar in it anyway, as cats can't actually taste sweet treats. They'd more heartily enjoy some savory, fatty flavors like fresh tuna or salmon flakes.
[h/t Moneyish]